---
During this unprecedented time of restrictions and lockdowns we are adapting our operations to provide a covid safe design service to our customers. While we are unable to invite you to our showroom or visit your home we are able to offer a remote design service with our new easy-to-use kitchen planner below. So start planning today and if you need some help with your design our professional kitchen designers are here to help - just give us a call or drop us an email.
Kitchen Planning Made Easy - our dedicated room planner is an easy-to-use floor plan design app that runs on your device without requiring downloading.
Here you will be able to generate and submit your project details as well as a layout of your kitchen in minutes using the simple drag & drop drawing tools. We will then take your plan and transform it into a stunning 3D photorealistic design to enable you to visualise your new kitchen. If you are planning a new kitchen or simply looking for a refresh of your existing one, get started started straight away with Kitchen Planner and see how easy it is to create your kitchen design.
Plan Your Kitchen
To begin planning your kitchen your should measure each wall, ceiling height, any windows and doors, as well as fixed objects such as electrical sockets, radiators, boilers, boxed in pipes etc. You should then click on the launch link above and follow the step-by-step instructions to create the room shape required. You can then simply submit your plan and leave it up to us to create the layout for you. Or if you wish to express your design ideas you can use the 'insert furniture' option to click and drag units into position before submitting.
Submitting Your Plan
To enable us to create an accurate plan for your project you should provide as much detail as possible in the questionnaire section when submitting your plan. Use this area to tell us the style and colours of the materials you prefer eg. doors, worktops, handles etc. Once we have all these details we can then consider your design and create the best solution for your space. We will prepare a draft design comprising of a floor plan & photorealistic 3D renders - which we will email to you for consideration.
---
Kitchen Design Service
Kitchen Planner - Here are a couple of examples of the detailed installation plans & layouts as well as stunning 3D rendered images we can produce to help you visualise your own ideas.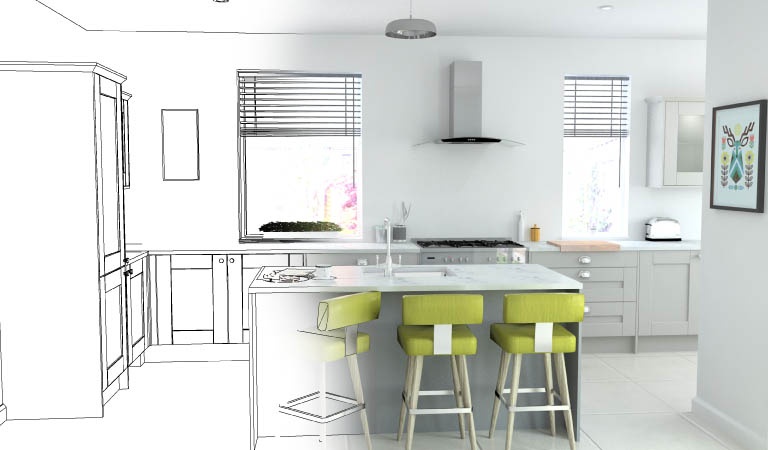 See how a bespoke kitchen comes to life from an initial sketch to a stunning photorealistic 3D render!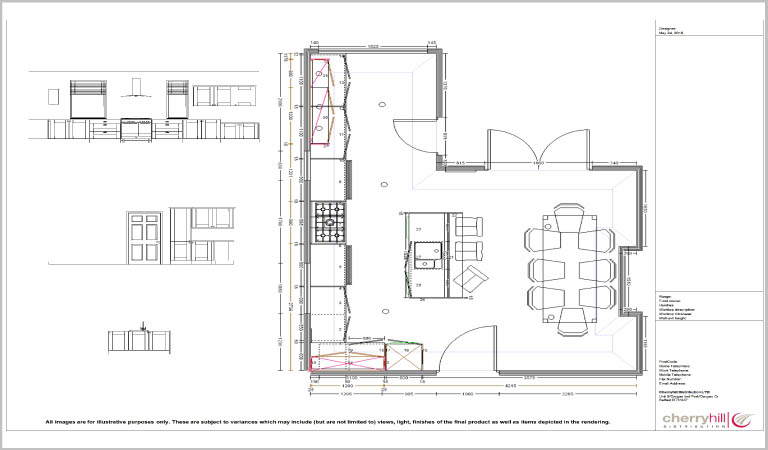 Customisable plans and elevations drawn to scale to help you maximise the size & shape of your project.